According to most current FDD, the average sales for company-owned Pokeworks units for 2022 was $1,129,378. 
With an investment starting at $386K, Pokeworks franchisees benefit from a better than 2:1 sales to investment ratio, which is better than many QSR franchise opportunities.
The expected start up costs for a Pokeworks franchise ranges from $386,468 to $646,188 per Pokeworks restaurant, with a target project cost of $400K.
This includes  $25,000 – $70,000 in cash reserves and other pre-opening costs. 
*According to Item 7 of the Franchise Disclosure Document (FDD).
Pokeworks is a great opportunity for investors for several reasons:
High volume locations.

In 2022, the average gross sales for company stores is $1,129,378. See FDD for more details

High average ticket relative to other QSR concepts

Loyal and consistent customer base

. The average customer (according to a recent survey) eats at Pokeworks once a week or more.

Multiple dayparts
Innovative, chef-inspired menu

with fresh ingredients and bold flavors 

Experienced leadership

 

Prime development territories still available
Fastest growing brand and category leader

in a rapidly emerging segment of QSR.

Future-forward brand

appealing to the taste preferences of Millennials and other younger, more educated, and more affluent consumers.

LEADER IN RAPIDLY GROWING CATEGORY
As the popularity of Poke increases, so does the demand from consumers. According to a recent study, poke demand will double by 2026, growing 13.1% per year for the next 5 years. As both the largest and fastest growing brand in the category, Pokeworks franchisees should experience a disproportionate share of this growth.
Pokeworks is the market leader 
Competition in the casual, quick-service poke industry is highly fragmented with mostly small operators, tiny chains, and numerous small, local, copycat players. Chain competition is relatively slim with regional or national brands.
As the market leader, Pokeworks is cutting through the competitive noise by delivering proven and consistent value to guests and attracting new customers through accelerated new market expansion by partnering with sophisticated and growth-oriented franchise investors.  The relatively weak and fragmented local competition allows Pokeworks franchisees to penetrate new markets easier and more rapidly than many other franchise brands.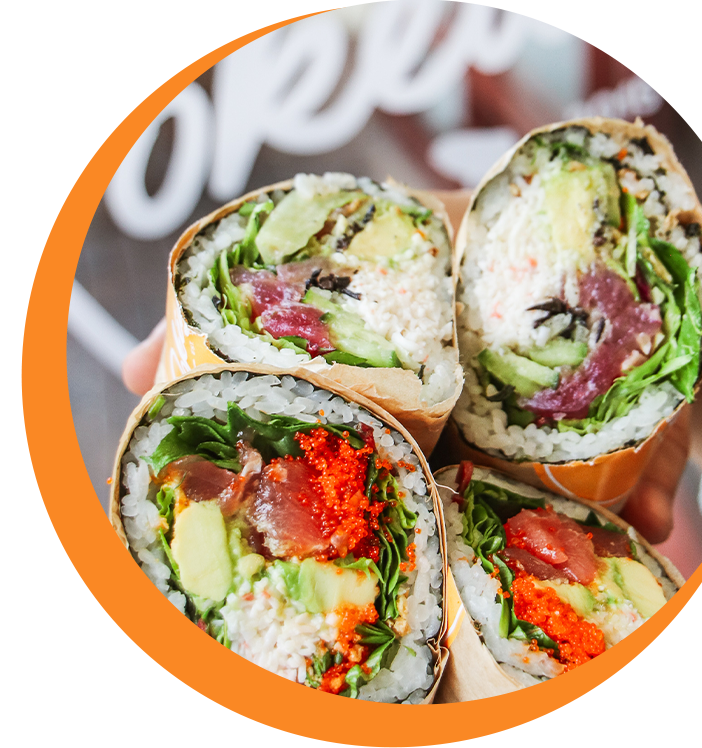 With proprietary, Asian-inspired flavors, the Pokeworks menu offers endless poke combinations for  bowls, burritos, and salads to please Millennial, Gen X and Gen Y consumers across the country.
Featuring sustainably-sourced proteins like salmon, ahi tuna, chicken, shrimp, tofu, and even limited-time-only menu options. Our proprietary sauces and menu choices make Pokeworks the top destination for quick, delicious and healthy dining. Plus, customers get to choose from a long list of fresh, crisp vegetables prepared in-house daily to build a Poke Your Way™ meal.
Pokeworks' customers are:
Younger.

Our customers range from ages 19-45. 

More educated and affluent.

Our customers are often college educated with household incomes that are often over $100K. 

More loyal and visit more frequently.

According to a recent customer survey, 66% of our customers eat at Pokeworks once a week or more. 

Pokeyworks is positioned for long term, sustainable growth
Pokeworks' menu and model has been carefully designed to meet the needs and wants of  both Gen X and Millennial consumers. According to multiple surveys, they prefer the following: 
Food away from home.

Both groups of consumers tend to dine out more than other demographics.

Healthy and fresh food. Neither demographic is willing to sacrifice health, wellness, and quality.
Ethnic and cultural nods.

They hunt for flavors and cuisine that are unique and reflect cultural diversity.

Convenience.

They are looking for easy-to-access and quick options when it comes to food and dining.
Please submit your contact information by filling out the form below.
Join other highly accomplished franchise owners today.